In this section I'll be introducing some new models that have recently been added to my stock list. These models may not be newly released models by the manufacturer but they are new to my inventory.
Even 75 years after this car raced at the Avus GP, it still remains as eye-catching as ever. The story of the Type C and the 1937 Avus race is a fascinating one; one that is well worth re-telling here. Firstly, the Avus circuit located in the suburbs of Berlin consisted of two long straights side-by-side with turns at each end. In fact the straights were part of a dual carriage motorway and each were around 4 km long. The turn at the northern end was a steeply banked curve (43°) made of bricks and it became dubbed the "Wall of Death," especially as it had no retaining barrier so cars that missed the turn easily flew off it.
For 1937 the race was a non-championship Formula Libre event so Mercedes and Auto Union decided to modify their land speed record cars into racing cars! Both teams also ran their traditional GP cars as well due to the concerns that the streamlined bodies could increase tyre wear. The race consisted of two 7 lap heats with one 8 lap final. Bernd Rosemeyer driving car #31 finshed 4th in the final race but managed the fastest lap at an average speed of 269.73 kph. Car #31 is available for $70. Status: Sold Out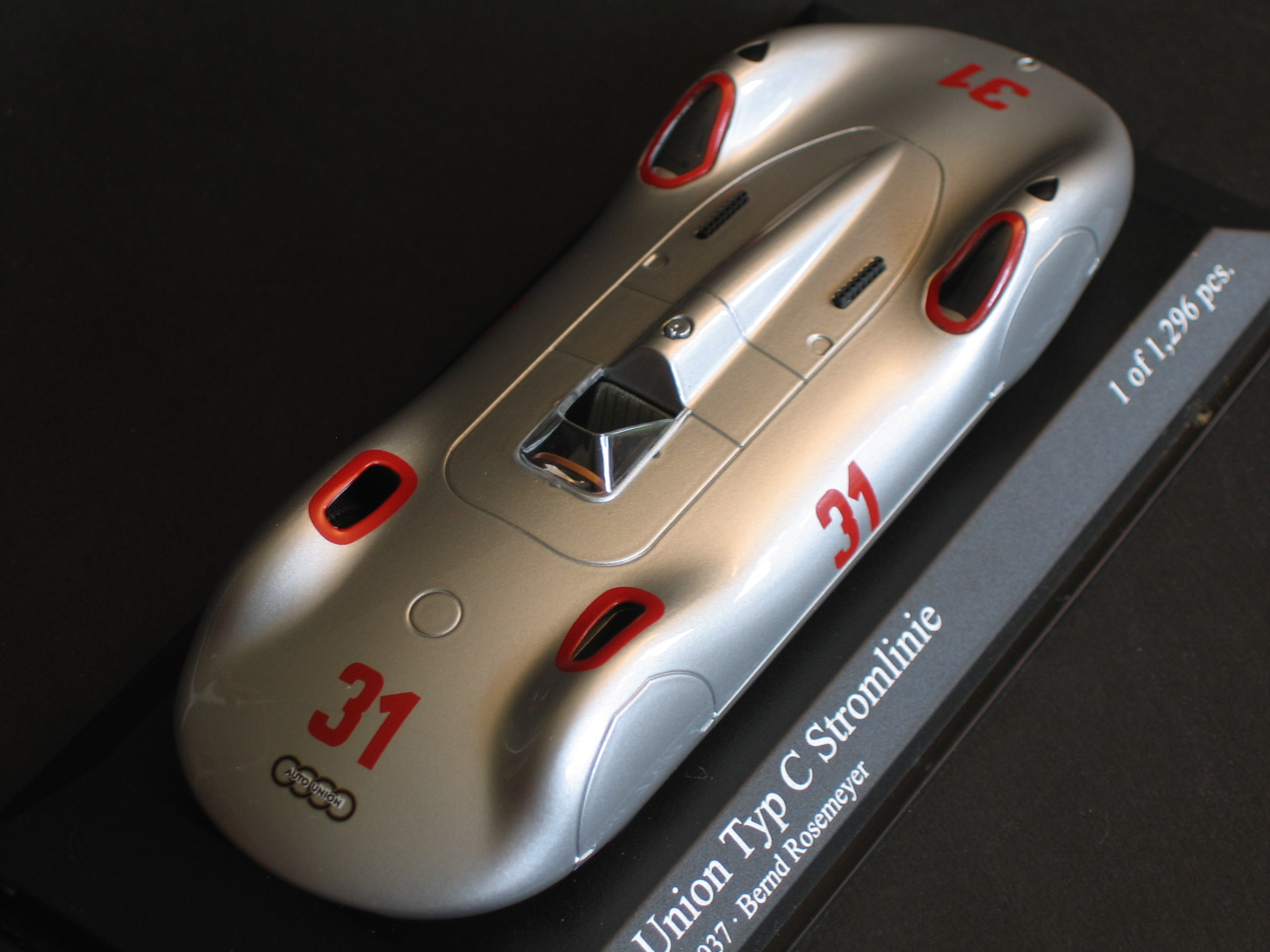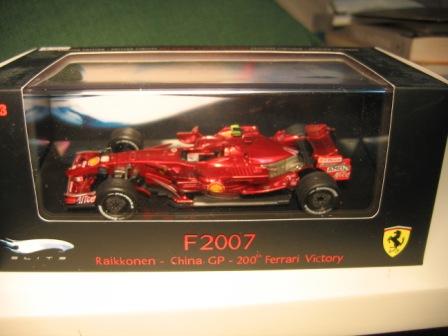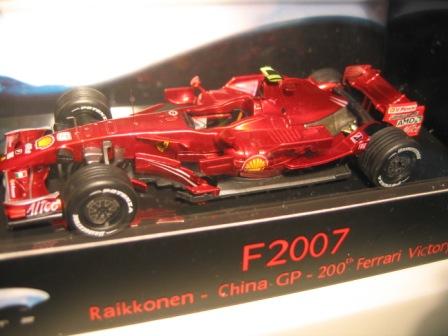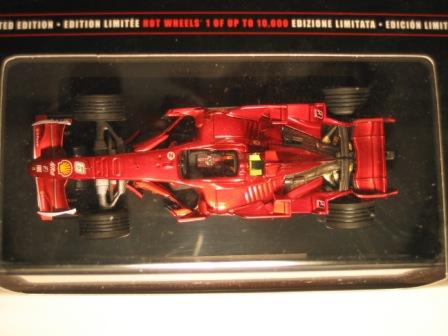 Out of contention for the 1997 Australian Touring Car Championships, Mark Skaife didn't front up for the seventh round of the ATCC at Lakeside in Queensland. On that weekend in June he was one of three drivers entered for the Le Mans 24 hour endurance classic driving the #46 Newcastle United Lister Storm GTL, a GT1 class car car powered by a normally aspirated 7-litre Jaguar V12 engine. His run at Le Mans unfortunately came to an end after 77 laps with the car retiring due to gearbox problems. This 1:43 scale model by Spark (product code S0634) is in my inventory and is available for $65.00.
Status: In Stock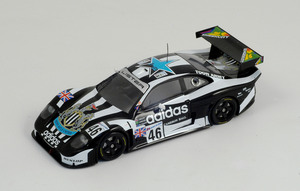 1985 would be the first year of the Bathurst 1000 being raced under International Group A rules. An exotic line up of cars turned up for the 26th running of the Great Race including Jaguars, Rover Vitesses, Ford Mustangs, BMW 635CSi and of course the Commodore VKs.
The race was dominated by the
Tom Walkinshaw Racing run Jaguar XJSs, which finished first and third in the race. John Goss and German driver Armin Hahne claimed the victory with team boss Tom Walkinshaw and his co-driver Win Percy
finishing three laps down in third.
Minichamps have recently released the 1:43 scale model of the winning Jaguar with a limited release of just 2016 models and are now becoming very hard to find in shops. This is a "must have" model for all collectors of Bathurst winning cars and I have it in stock for $80.00.
Status:

Sold out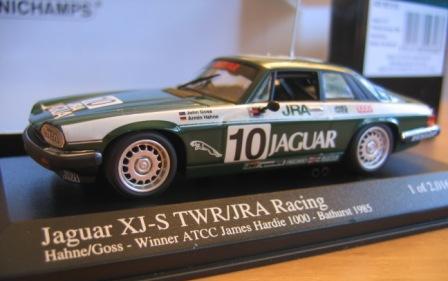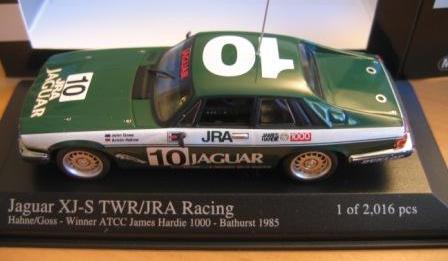 TrueScale Miniature's second F1 release is the legendary 6 wheeled Tyrrell Ford P34 (car #3) that won the Swedish GP in 1976 in the hands of Jody Scheckter. TSM has also released the 1977 car (#4) driven by
Patrick
Depailler which was driven to 2nd place in the Canadian GP.

T

he six-wheeled Tyrrell was one of the two most radical entries ever to succeed in F1 competition (the other being the Brabham BT46B Fancar), and has specifically been called the most recognizable design in the history of world motorsports. The competitiveness of the car
in 1977
declined mostly due to the tyre manufacturer's failure to properly develop the small front tyres. The added weight of the front suspension system is also cited as a reason for ending the project. Thus, the P34 was abandoned for 1978, and a truly remarkable chapter in F1 history was over.
B
oth are beautiful models mounted on wooded plinths and I'm retailing these at $90.00. All photos courtesy TrueScale Miniatures.
Car 3: In Stock
Car 4: In Stock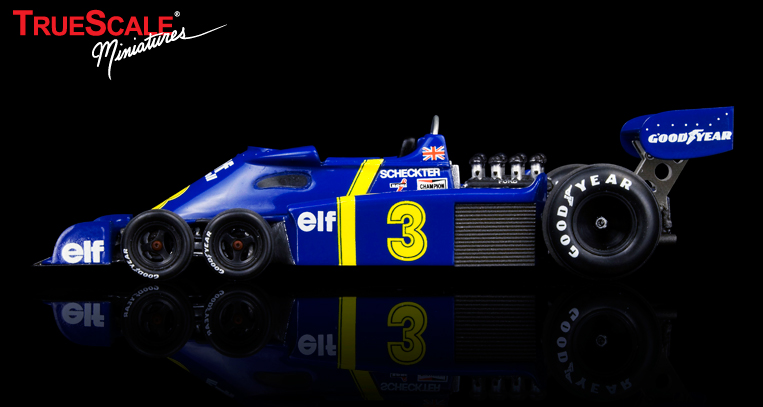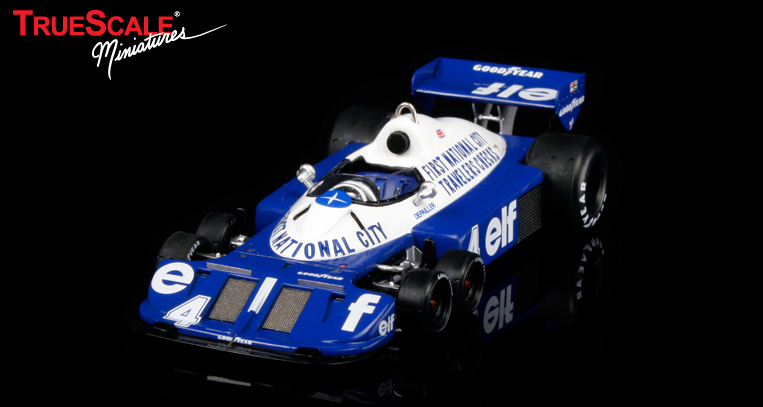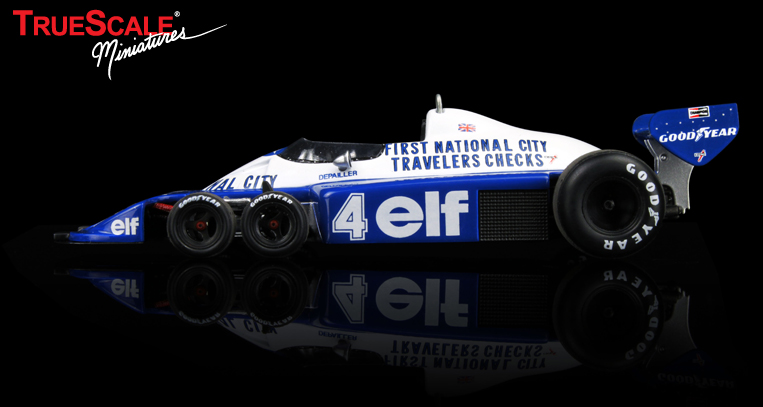 Return to top
Brumm needs no introduction, this Italian company has been making good quality, affordable 1:43 diecast models for years and years. What is amazing is all their models are made 100% in Italy. No other manufacturer has the same range of classic Ferrari F1 and sports cars and yet Brumm still continues to produce new and interesting models. A recent addition to their range is the 1981 Ferrari 126CK Turbo car driven by Ferrari's iconic driver, Gilles Villenueve to victory at the Monaco GP. Brumm have released many of the Villenueve '81 cars before but this one is the first with an open body with full engine detail. This model (number P004) is individually numbered with a limited release of 1000 models and is well worth the $70 list price.
Another
'81
Villeneuve car produced by Brumm is the one he used to take part in a 1000m drag race with an Italian Air Force F-104 Starfighter jet on 22 November 1981. This model includes a scale figurine of the driver and also a mechanic preparing the car which raced without front or rear wings. To commemorate the event, in 1989 the Italian Air Force donated an F-104 jet painted in red to Ferrari - this jet now sits inside Ferrari's Fiorano test track. By the way, Villenueve won the drag race (Incidentally 22 years later Michael Schumacher in a Ferrari attempted a similar feat against an Italian Air Force Eurofighter Typhoon - he lost). The Villenueve drag race car is listed for $55 (model number AS46).
Status Monaco GP: In Stock
Status Jet Drag: In Stock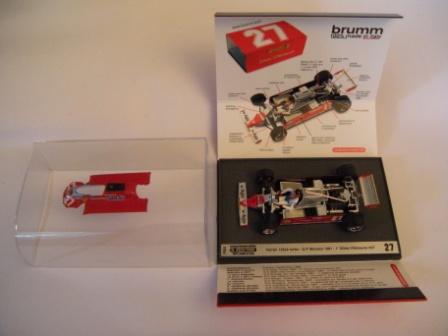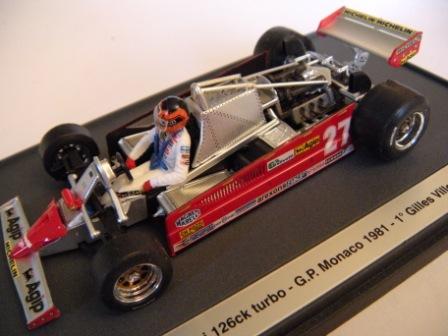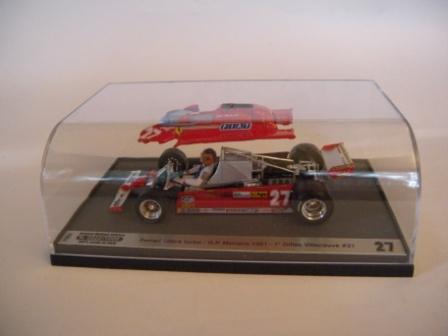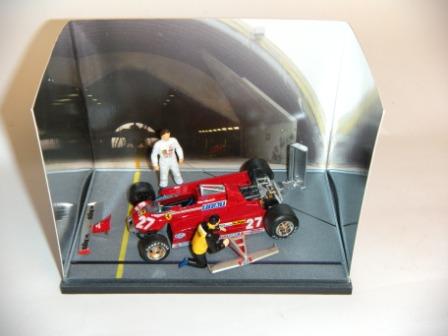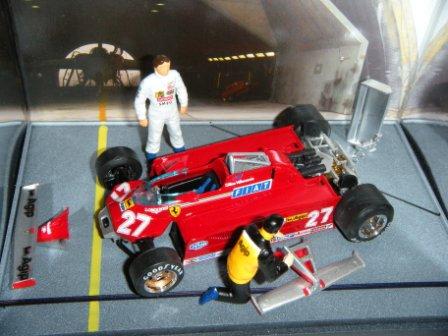 Return to top
As a collector of diecast models I confess I'd never heard of Fujimi until I came across some nice 1:43 scale diecast Porsche 953K3 race cars made by this manufacturer. After some research I discovered Fujimi are well respected makers of plastic kits. The Porsches are well made and reasonably priced. One of the Porsches modelled is the 1980 "Apple Computer" sponsored car driven by Allan Moffat at Le Mans and others include the "Jagermeister" car driven by J. Fitzpatrick in the German DRM series. All are priced at
$
55 each.
Status Moffat Porsche:

Sold out


Status Jagermeister Porsche:

Sold out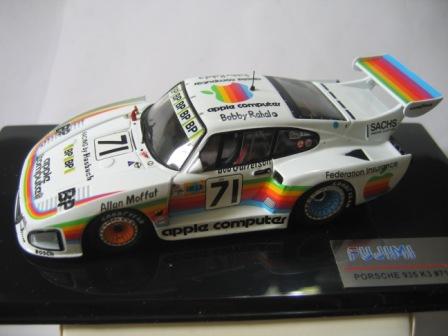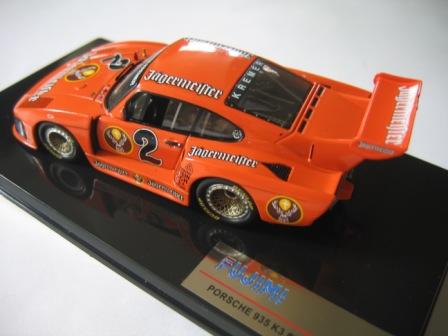 Spark Models have a deserved reputation for producing
finely detailed sportscars, touring and road car models. Recently Spark decided to produce some 1:43 scale replicas from the world of Formula One and they
have since announced almost 60 Formula One cars for future release. One that has been released is the Matra-Simca MS120B as raced by the Kiwi Chris Amon in 1971 at the French GP and they have done their reputation no harm. It is
a highly detailed model (Spark number S1603) of a very interesting racing car and I have it listed for
$
75
.
The 1971 French GP race took place for the first time at the brand new
Paul Ricard circuit
in the mountains outside Marseille and was won by Jackie Stewart in a Tyrrell-Ford. Chris Amon took 5th place for the French Matra team.
Please check my stocklist for other Spark F1 cars.
Status: In Stock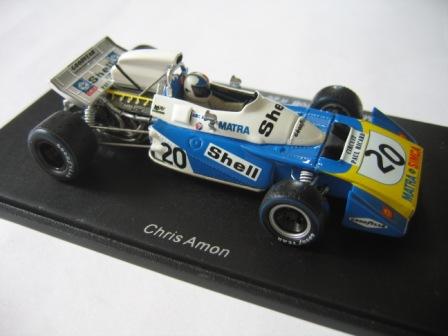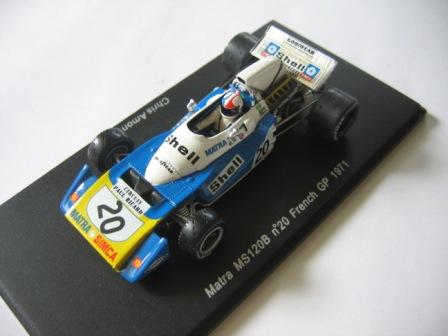 This 1:43 scale model
is of particular significance to followers of Australian Motorsport; this is the car that won the Australian GP at Adelaide on 3 November 1985. Rosberg, driving his brutally powerful Williams had the honour of winning the first World Championship Australian GP in the heat of the South Australian summer. Minichamps finally released this model in November 2009, coinciding with the 24th anniversary of the inaugural race.
This was a significant race for myself as it was the first GP I'd ever attended and it was a pleasure to watch such legends as Senna, Prost, Lauda, Piquet, Mansell, Alboreto, Jones, Laffite, Berger, Patrese, Tambay, de Angelis, Johansson and of course Rosberg race around the tight Adelaide street circuit. I have this model (400850006) listed for
$
65 in my stocklist and is a limited edition of 2304 pieces.
Status:
In Stock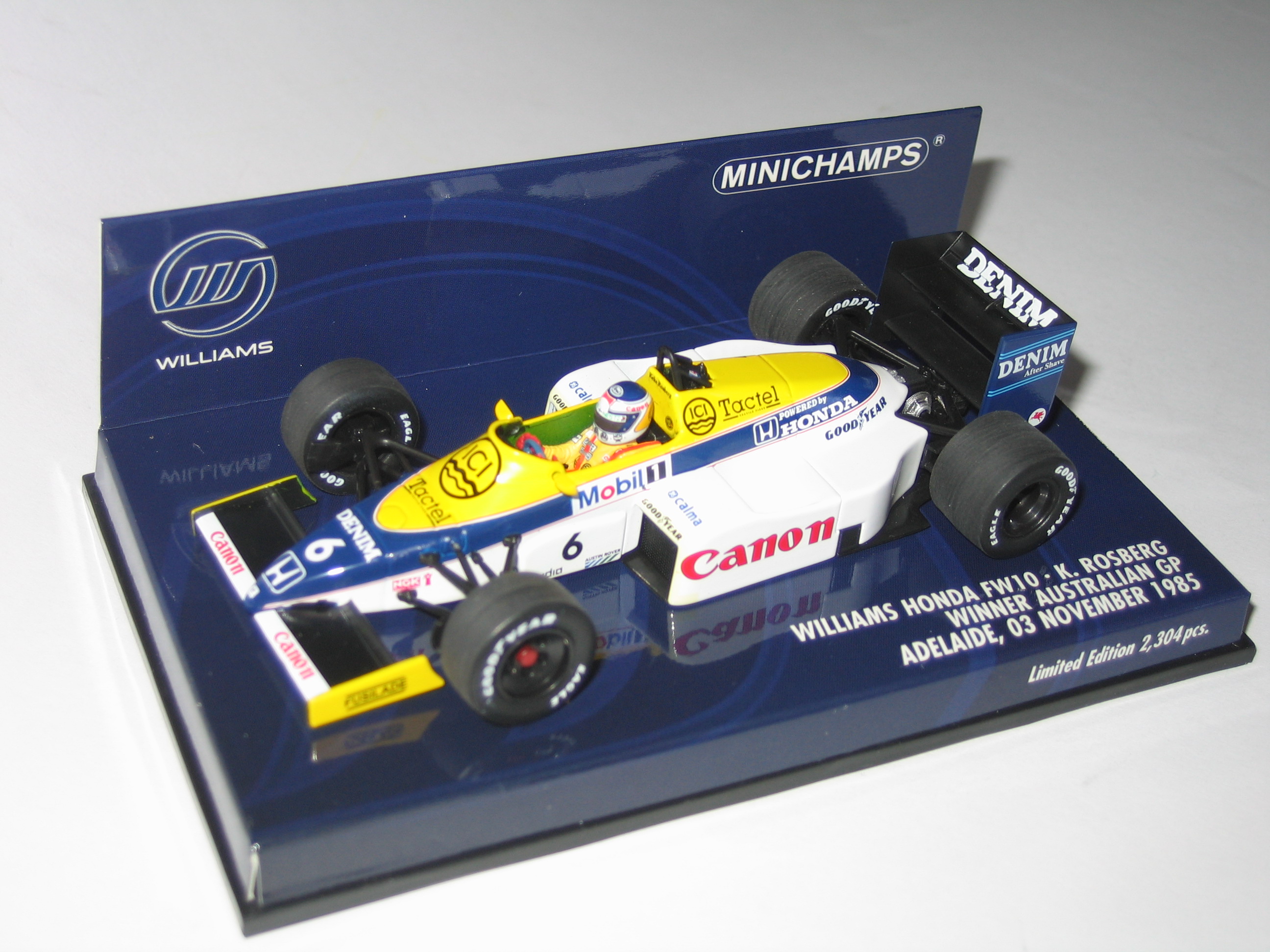 Return to top
This model was released in June 2009 by American manufacturer TrueScale Miniatures and is the Eagle Gurney-Westlake that won the Belgium GP in 1967. Considered by many connoisseurs to be the prettiest car of its era, car #36 was driven to a maiden victory by Dan Gurney who earned the distinction of being the only driver to earn the maiden Grand Prix victories for three different manufacturers—Porsche, Brabham and his own All-American Racers (Eagle).




The model comes mounted on a wooden plinth and is protected by an acrylic cover. Only 750 models were released which makes this model very collectible. Each model is numbered and the plaque has been signed by Dan Gurney. It is currently listed for

$

130 in my stock list. All photos courtesy of TrueScale Miniatures

.
Status:

Sold out