About www.f1scalemodels.com
Welcome to f1scalemodels. My name is Philip and this is my website (started in 2009) which is dedicated to the hobby of model car collecting. Apart from being a keen collector I'm also a part-time model car trader, trading primarily at several swap meetings and car events around the Sydney (Australia) area.
This site is always being updated and improved (hopefully) and the main purpose is to provide an up-to-date listing of models that are available for purchase at swap meets that I will be attending. As you can imagine it would be impossible to have all my stock at any swap meet, so if there are any particular model(s) that you're interested in, please contact me and I'll make sure I bring them along to the next swap meet. This is an obligation-free service.
Check out the link called "Motorsport Gallery" where I've posted some motorsport related photos. These are some of the photos I've taken over the years at various events.
Mail Order
I've been asked a few times now if I do mail order; the answer is yes. So far I've posted to a number of interstate collectors and also to USA, UK, Estonia, Hungary, Portugal, Sweden, France, Austria and Italy. Australian collectors have a choice of payment options; Direct bank deposit, money order or Paypal. International collectors will need to pay via Paypal. Please contact me with the details of the models you're interested in and I will provide you with a firm quotation for postage. I only charge what Australia Post charges.
Swap Meets
I'm planning to attend the following swap meets and events in 2018; please go to the Swap Meets link for dates and other details:
Granville Model Car Swap Meet
Collectormania Toy and Hobby Fair
Shannons Eastern Creek Classic
Hawkesbury Model and Hobby Show
All British Day
Contact Me
Mobile: 0417 428 668
Email: info@f1scalemodels.com
2017 Poll Results - F1's Greatest Driver
Here's the final results of the poll that was held throughout 2017 to determine the greatest F1 driver. The results were interesting in that some current drivers with multiple world championships to their name didn't attract any votes at all, (i.e. Vettel and Hamilton); while some stars of yesteryear also surprisingly failed to garner any votes (Gilles Villeneuve, Stirling Moss and others). OK, here are the results, with a total of 21 votes cast...
1st equal with 4 votes each: Alain Prost and Juan Manuel Fangio
3rd equal with 3 votes each: Jackie Stewart, Michael Schumacher and Jim Clark
6th with 2 votes: Ayrton Senna
7th equal with 1 vote each: Jack Brabham and Niki Lauda.
Incidentally the Autosport Magazine poll had Senna as the greatest driver. Thank you to all of you that voted in this poll.
Updates
This website is updated regularly (at least once a month) with new additions and important or interesting information related to the hobby. All new and restocked items will be marked with an "R" in the stocklists so please check these lists regularly. I hope you find these updates helpful.
New Additions: January 2018
Welcome to the first update for 2018; I hope everyone had a relaxing break over the festive season. I'm predicting another great year full of interesting new releases (admittedly, an easy prediction to make!). So, let's get straight into this year's new additions. Some interesting F1 models have been released recently by Spark including the Ford powered Hill GH1. Graham Hill began his F1 career in 1958 and he'd already won 2 world championships by the time he formed his own team in 1973. Initially, Hill used the Shadow DN1 and then the Lola T370 chassis before evolving the Lola into his own design in 1975. With the new Hill GH1 chassis, Hill entered the 1975 Monaco GP but failed to qualify the car. After this failure, Hill retired from F1 racing to concentrate on team management and his drive was given to his protege, Tony Brise. Other notable drivers to race for the Embassy Hill team included Alan Jones and Vern Schuppan (the model of Schuppan's car will be available next month). This Spark model, as usual comes supplied with the correct tobacco decals.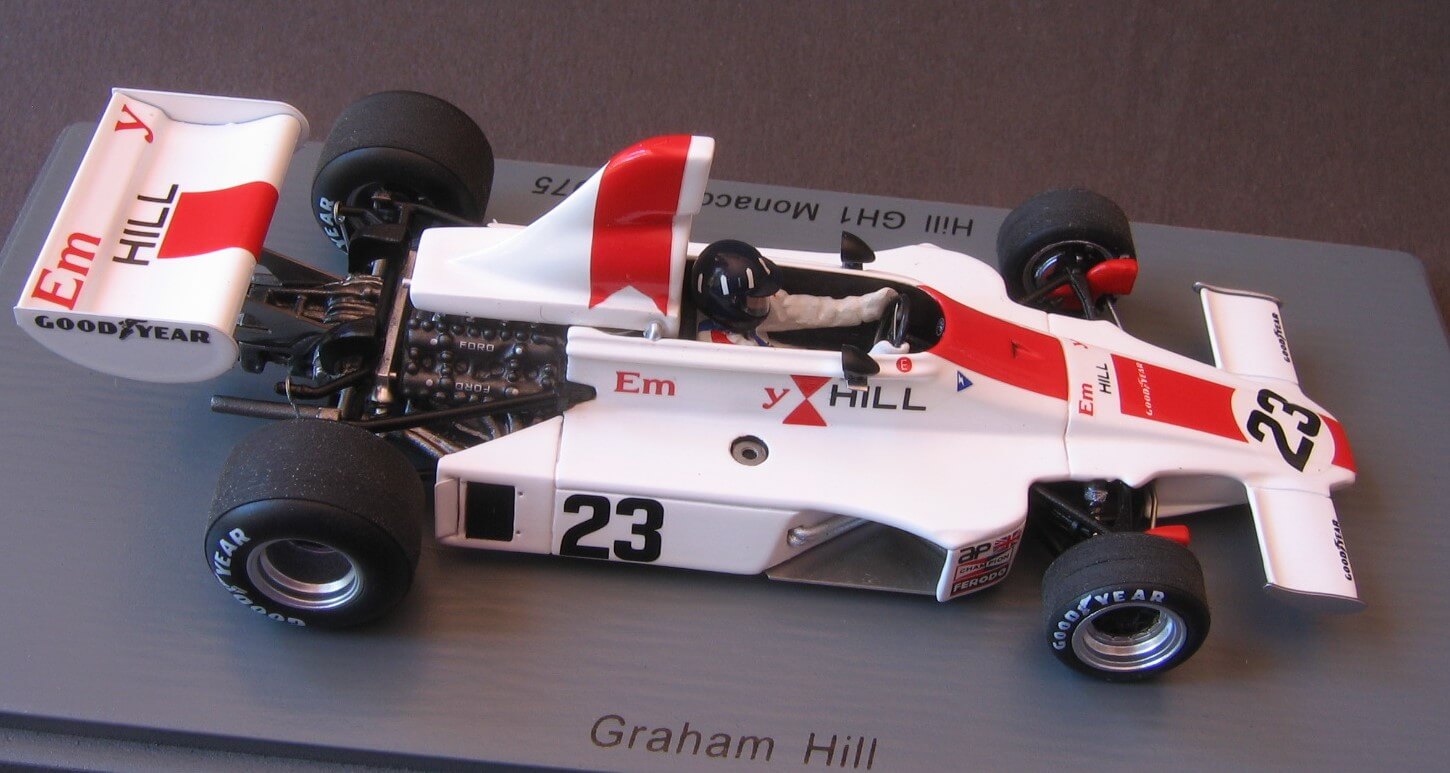 Spark: Hill Ford GH1 Monaco GP 1975
In 1939 and 1940, Wilbur Shaw won the Indy 500 with the same car, a Boyle Special Maserati 8CTF and it was the first win by a "foreign" car since 1916. The Maserati 8CTF was designed to be a GP car, making its debut at the 1938 Tripoli Grand Prix competing against the dominant Mercedes and Auto Unions. Although the car had a powerful supercharged 3-litre, straight 8 engine, the Maserati lacked reliability and long-term endurance so it seemed odd when a Maserati was imported into the US for the Indy 500. When the car arrived in America, Mike Boyle, the owner found the cooling system had been filled with pure water and had frozen during the Atlantic crossing, splitting the cylinder block. His mechanic, a master craftsman carefully rebuilt the power plant and created a car that would prove a sensation at the Speedway. This beautiful model, made by Replicarz faithfully captures the simple, elegant lines of this significant race car.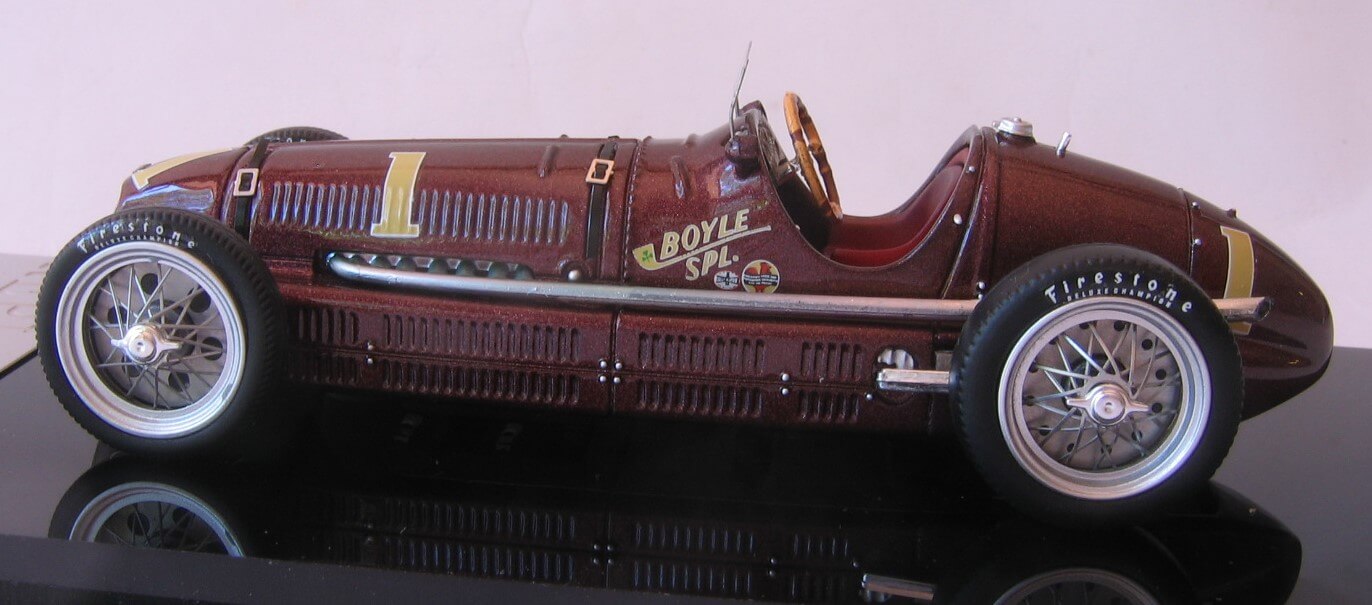 Replicarz: Boyle Special Maserati 8CTF
The Honda CR-X was a 2-seat, front-wheeled-drive sports compact car manufactured by Honda from 1983 to 1991. Although there is some debate as to the definition of the acronym CR-X, the most widely accepted is "Civic Renaissance X". The second generation cars were fitted with a hot 1.6L DOHC engine and it had exceptional ride and handling. Its slick baby Euro styling has assured its classic status. This diecast model is by Maxichamps (a sub-brand of Minichamps)
Okay, that's it for the first month of the year. There is only one event this month which is the Granville Model Fair on 12th January. Please check my Swap Meets link regularly as I will be updating dates for future events as they are confimed. Until next month, happy collecting.
Formula One
1988 Benetton Ford B188, A.Nannini (19) 3rd British GP (Spark)
1963 Brabham Climax BT7, J.Brabham (6) 4th French GP (Spark)
2014 Dallara Volkswagen F314, M.Verstappen (5) 7th Macau GP (Spark)
2017 Ferrari SF70H, K.Raikkonen (7) 4th Australian GP (Looksmart)
1975 Hill Ford GH1, G.Hill (23) Monaco GP DNQ (Spark)
1970 Lotus Ford 72C, E.Fittipaldi (24) US GP 1st win (Spark)
1973 McLaren Ford M23, D.Hulme (7) "Yardley" 1st Swedish GP (Spark)
1976 McLaren Ford M23, J.Hunt (11) 2nd South African GP (Spark)
2016 Red Bull Tag Heuer RB12, M.Verstappen (33) 3rd Brazilian GP (Minichamps)
2017 Red Bull Tag Heuer RB13, D.Ricciardo (3) Australian GP (Minichamps)
American Race Series
1969 Eagle Ford Mk7, D.Hulme (42) Indy 500 (Spark)
1969 Eagle Weslake Ford Mk7, D.Gurney (48) 2nd Indy 500 "Olsonite" (Spark)
1939 Maserati 8CTF, Wilbur Shaw (2) 1st Indy 500 "Boyle Special" (Replicarz)
1940 Maserati 8CTF, Wilbur Shaw (1) 1st Indy 500 "Boyle Special" (Replicarz)
Le Mans / GT Racing
2016 Audi R18 HY, Fassler/Lotterer/Treluyer (7) 6hr Bahrain Last race (Spark)
1962 CD Dyna Coupe, Boyer/Verrier (55) Le Mans (Spark)
1966 Ford GT40 Mk2, Gurney/Grant (3) Le Mans (Spark)
1952 Lancia Aurelia B20, L.Valenzano/U.Castiglioni (39) 6th Le Mans (Spark)
1952 Lancia Aurelia B20, F.Bonetto/E.Anselmi (40) 8th Le Mans (Spark)
1980 Porsche 935 J, R.Stommelen (6) 1st DRM Zolder (Spark)
2016 Porsche 977, Ripert/Dumas (94)1st SPX Class Paul Ricard 24h (Spark)
Road Cars
1968 Abarth 2000 Sport Spider in red (Spark)
1989 Honda CR-X Coupe in white (Maxichamps)
1963 Imperial Crown Convertible in metallic red (Neo)
1998 Peugeot 306 Cabriolet in red (Maxichamps)
1972 Porsche 911 2.4S in green (Spark)
1973 Porsche 911 Carrera RS 2.7 presentation car in white (Spark)
1995 Porsche 993 RS Clubsport in red (Spark)
1968 Triumph TR6 in dark blue (Maxichamps)
After Thoughts: As we celebrate the start of 2018, there's one significant anniversary from 2017 which shouldn't go unmentioned. Last year was the 50th anniversary of the release of Mazda's first rotary (Wankel) powered car, the Cosmos Sport 110s which is now a much sought-after collectible as only 1500 units were produced from 1967 - 72.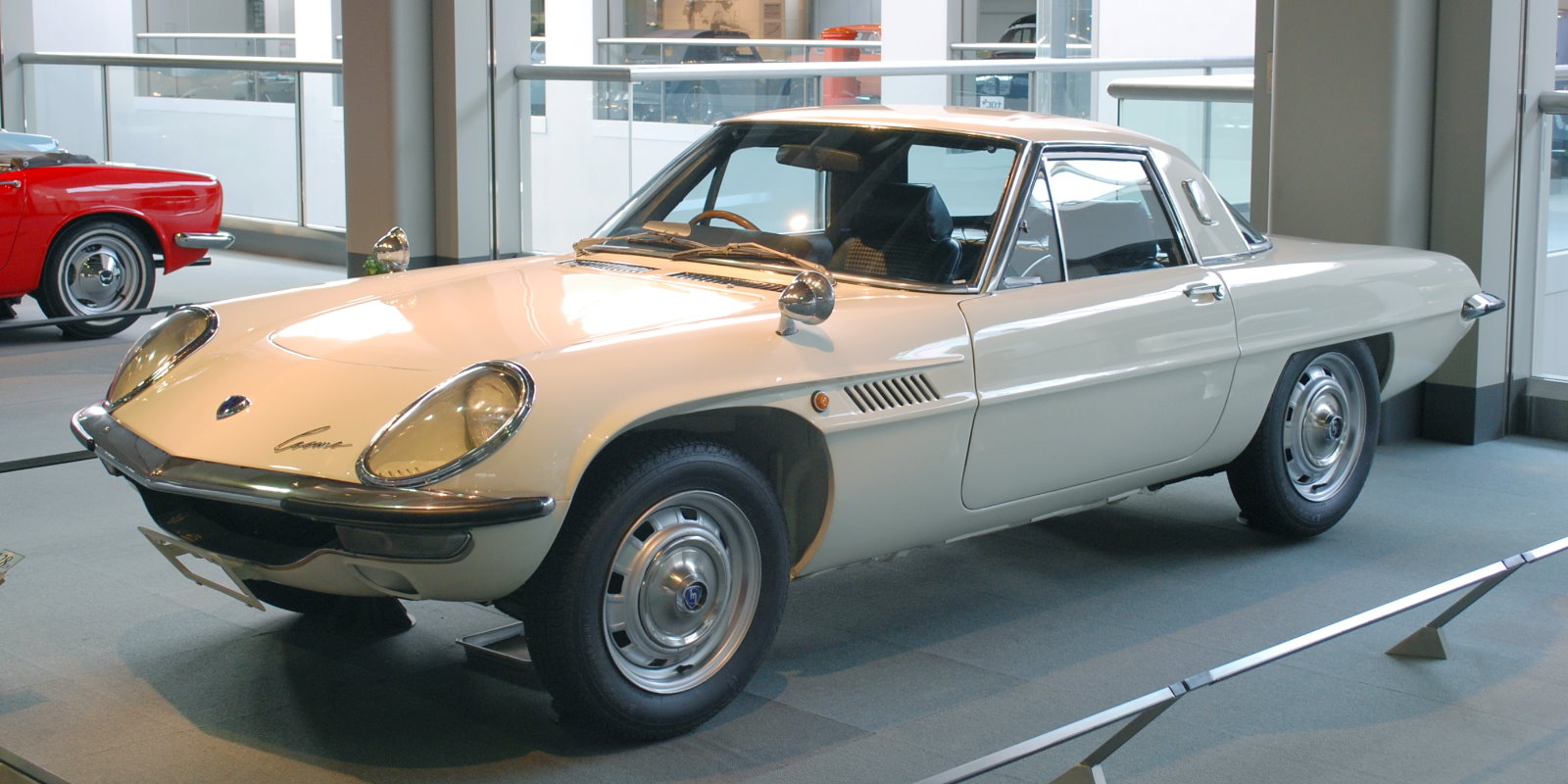 Mazda Cosmos 110S (By Mytho88 (Own work))
Going back to 1960, the President of the Toyo Kogyo company (later to be renamed as Mazda in 1984) made a bold trip to Germany to meet with executives from NSU Motorenwerke to negotiate the licensing rights for the German company's Wankel engine. The Mazda president was convinced that investment in this new engine would allow Mazda to better compete against their much larger Japanese rivals. After the deal was signed in 1961, Mazda received a prototype 400cc NSU rotary engine and they began development in earnest.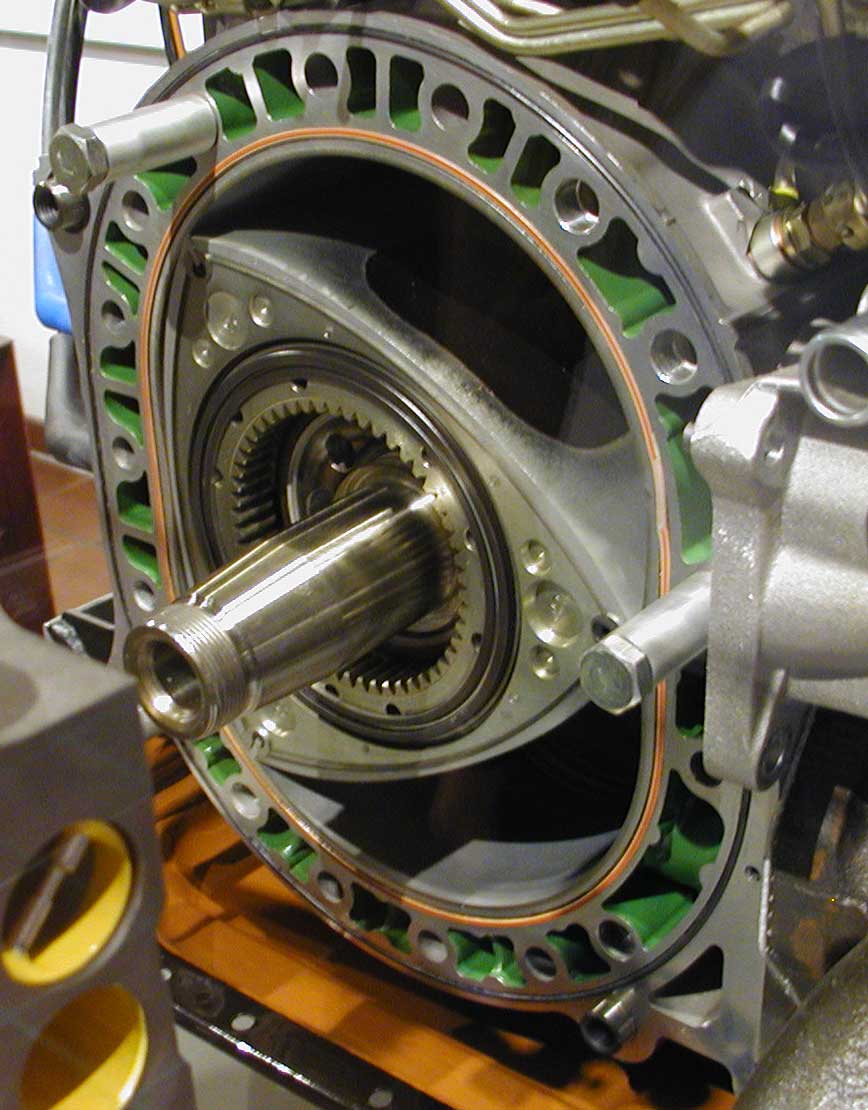 Partially disassmbled Mazda engine (By Softeis at German Wikipedia)
After the release of the Cosmos, Mazda became fully committed to a program to bring rotary power to their entire range of cars starting with the release of the R100 Familia in 1968. In 1971, Mazda were attaching the prefix "RX" to their rotary engined cars and they produced the RX-2, RX-3, 4 and 5.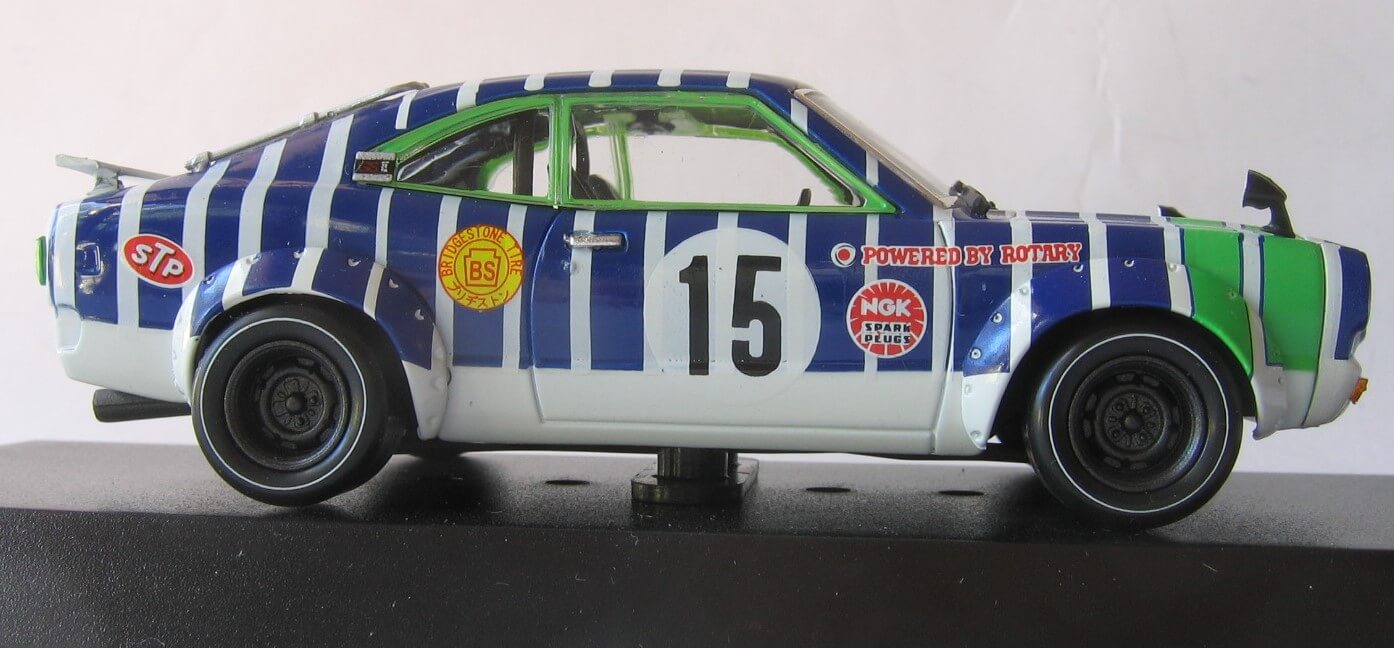 Kyosho: Mazda RX-3
But with the 1973 oil crisis, Mazda's ambitions for a rotary-powered future were stifled. Despite much development work, the Wankel engine's thirst for what was becoming liquid gold remained a major weakness. With the company quickly bleeding cash, Mazda put their hopes on one final car that was inspired by their first rotary car, the Cosmos 110.Their decision was to reposition the rotary engine as a purely sports car power plant and what they released in 1978 was the RX-7. This car would become part of a major invigoration of Mazda on the world motoring scene. The RX-7 ran through 3 distinct generations until production ceased in 2002 with a total of over 800,000 cars produced.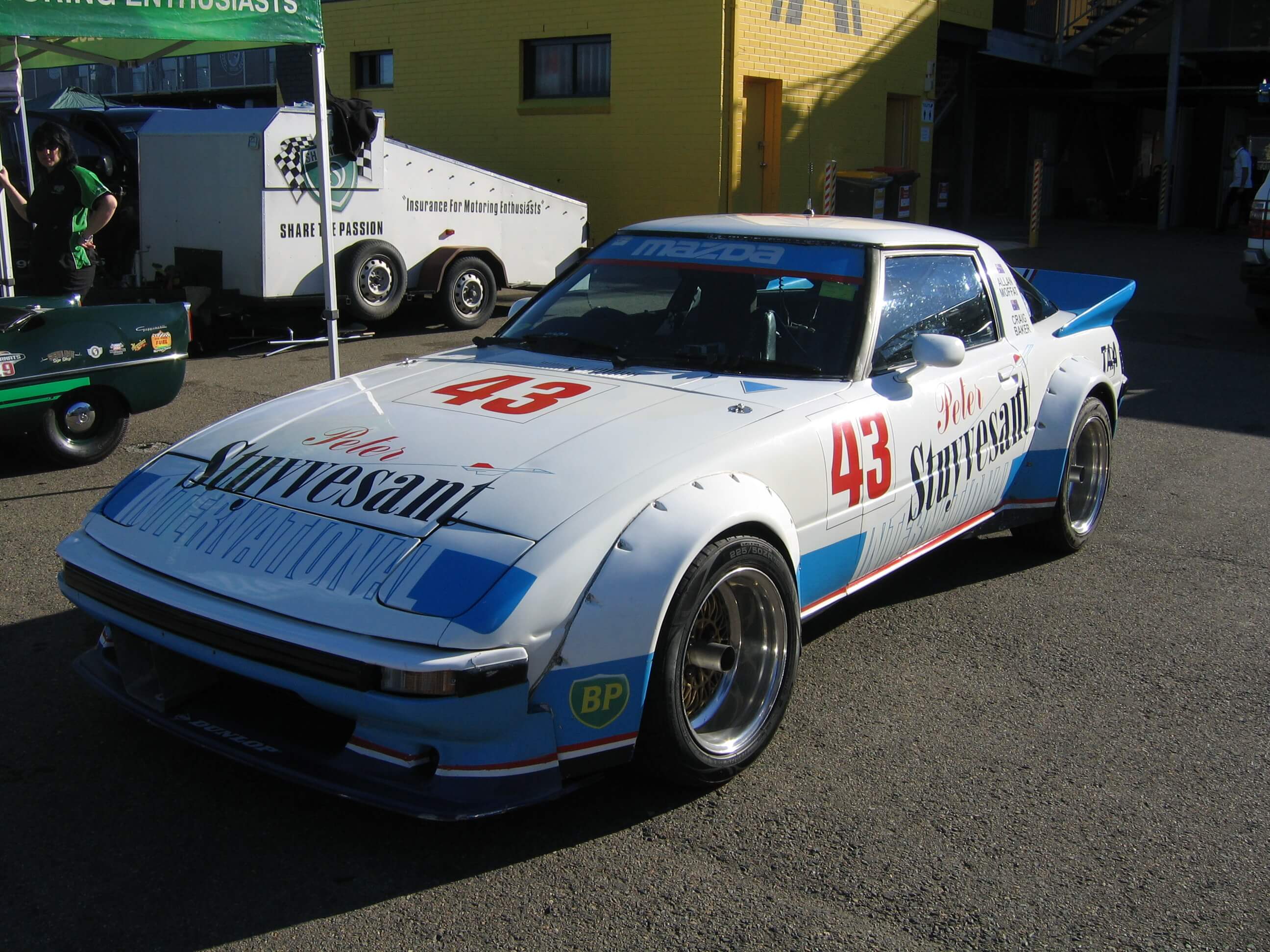 Mazda RX-7 Sydney Retro Speed Fest 2016
Mazda's next development of the rotary engine was the RENESIS 13B which was destined for the RX-8 in 2003. However, the four-door RX-8 could not match the appeal of the out-going RX-7 and it only remained in production until 2012 with 193,000 units being produced.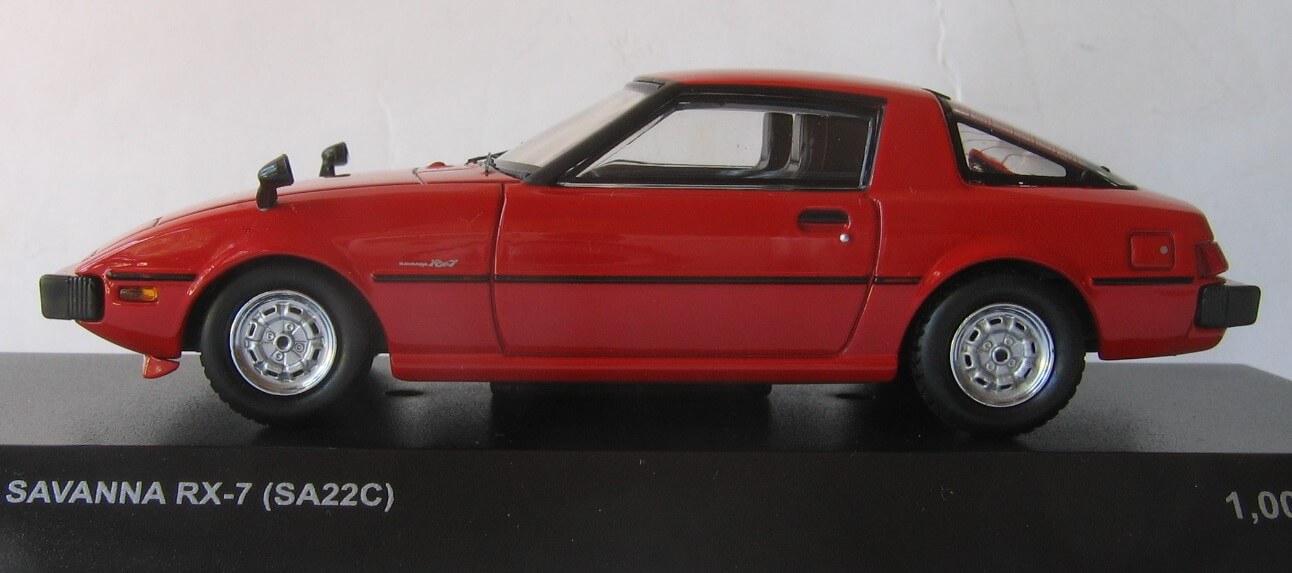 Kyosho: Mazda RX-7
In 1991 Mazda pulled off a surprising and famous victory when the Mazdaspeed 787B driven by Johnny Herbert, Bertrand Gachot and Volker Weidler won the legendary Le Mans 24 hour race. The win did much to dispel concerns about the rotary engine's reliability and to this day, the Mazda 787B is the only Japanese car, as well as the only Wankel engined car to win Le Mans.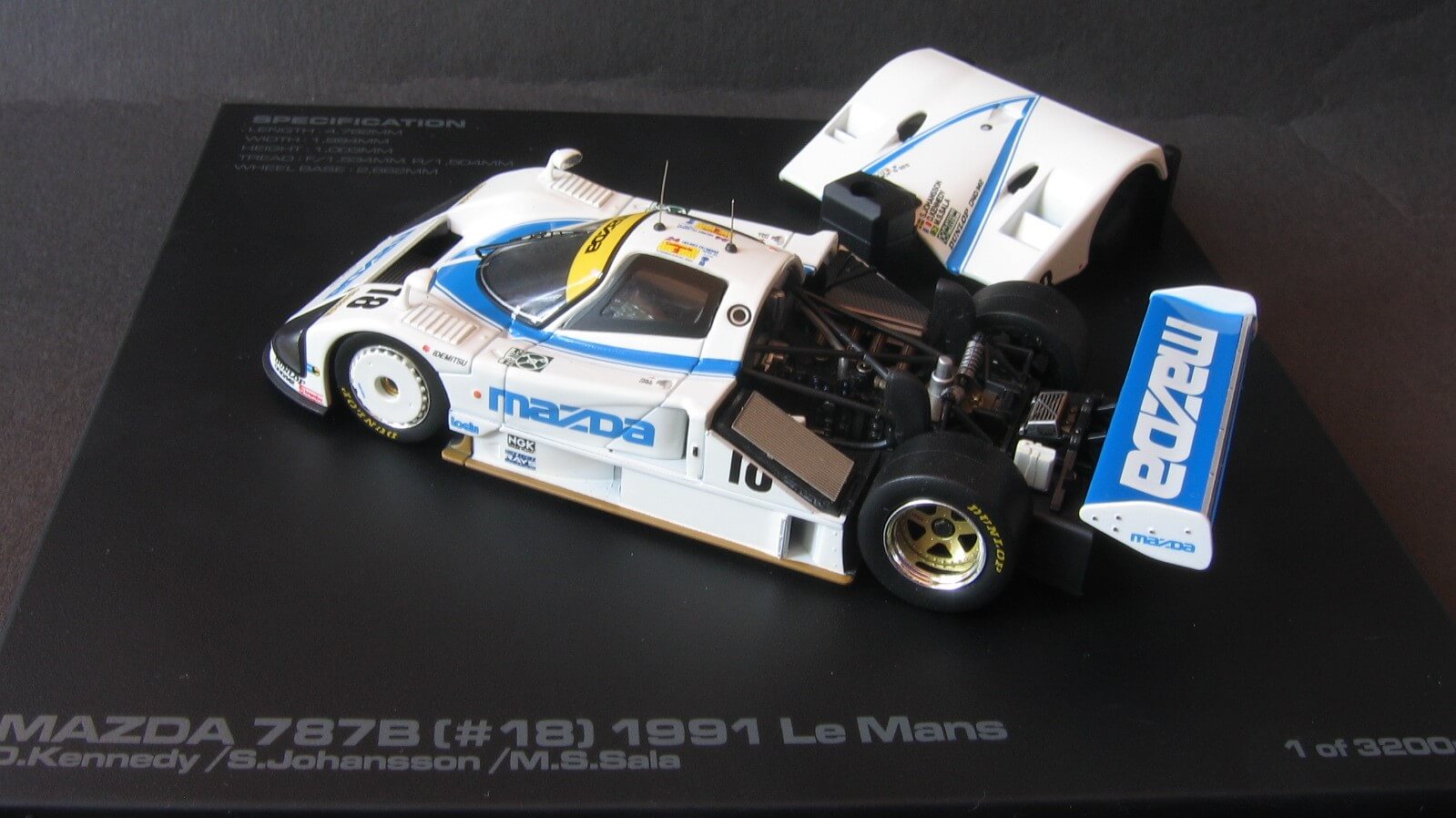 HPI Racing: Mazda 787B 6th place Le Mans 1991